Scientific Leadership Team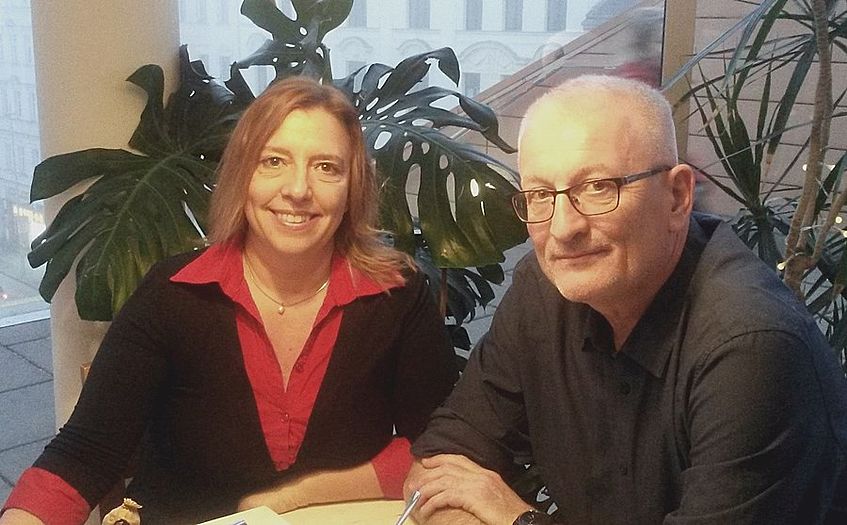 Scientific Leadership Team
The Course is conceptualized and guided by a dynamic team with complementary competences:
Leonie Hodkevitch, author, cultural producer, expert to the European Commission and international lecturer in cultural management, and Peter Schweitzer, Professor of Social and Cultural Anthropology at the University of Vienna with over 20 years of academic experience in North America.
Lecturers and Experts*
The interdisciplinary team of guest lecturers includes practitioners and scholars from the cultural field, anthropology, private business, architecture, University of Vienna, federal ministries, and TV and radio.
*subject to change
Andreas Stadler

Andreas Stadler 2018 - July 2021 Austrian Ambassador to Malta, Head of the Department for Civil Aspects of the European Union's Common Security and Defense Policy. 2013-2018 OSCE/Council of Europe Department, Deputy Head of Mission in the Austrian Delegation to the OSCE. 2007-2013 Director of the Austrian Cultural Forum New York. 2004-2007 Advisor for Science, Art and Culture in the Austrian Presidential Chancellery, Cabinet of the Federal President. Visiting professor at the University of Applied Arts and currently Austrian Ambassador in Warsaw, Poland.

Cay-Stefan Urbanek

Cay Stefan Urbanek, MBA of Economics and Business, started his professional carrier at McKinsey&Co and Deutsche Bank London. He worked at Verlagsgruppe Georg von Holtzbrinck in Stuttgart and served at the Austrian Public Broadcaster ORF in several commercial roles. Since 2011 CFO of Volkstheater in Vienna, lately challenged to keep the theater afloat during covid pandemic, complete refurbishment of the main theater building was undertaken and a new artistic concept.

Dee Boyle-Clapp

Dee Boyle-Clapp, M.F.A., M.N.M., Director of the Arts Extension Service (AES), University of Massachusetts Amherst, leads training programs in arts management and sustainability and the arts for AES degree and certificate programs, and state arts agencies, and conducts AES research and consulting projects. Dee is a sculptor and has over 25 years of experience in arts, teaching art history and arts management. She launched the ArtsHub to support the creative economy in four counties of Western Massachusetts. She holds bachelor's degrees in art and art history from the University of Wisconsin at Madison, an MFA in sculpture from UMass Amherst, and a Master's in Nonprofit Management from Regis University in Denver, Colorado.

Doug Borwick

Doug Borwick is author of 'Engaging Matters, Building Communities, Not Audiences: The Future of the Arts in the U.S.' and 'Engage Now! A Guide to Making the Arts Indispensable'. One of the U.S.'s leading advocates for the arts and community engagement, Borwick has served as keynote speaker and workshop presenter at conferences across the U.S., Canada, Australia, Austria, Chile, Beijing, Singapore. Dr. Borwick is past President of the Board of the Association of Arts Administration Educators, and is CEO of ArtsEngaged. He is an award-winning member of ASCAP.

Elisabeth Mayerhofer

Elisabeth Mayerhofer holds the position of chief of staff of the acting City Councilor for Culture and Science of the City of Vienna. She has professional experience as a cultural scientist as well as cultural manager and university lecturer.

fordewind architecture

fordewind architecture is a duo of architects and urbanists dedicated to the disclosure of existing and the creation of new spaces, as well as the processes. Their principles are critical questioning of apparently proven rules, development of solution methods and the action and interaction of architecture and urban space. In all their projects, fordewind architecture are committed to social inclusion, diversity and fair and sustainable urban development. They participate as artists or curators in exhibitions and festivals such as Balkanology and Sofia Architecture Week. Boris Enev has rich experience as architect, technical consulter and project manager in a huge range of different projects and countries attaches him strongly to the conceptual and executive part of urban development. Ephgenia Hodkevitch has a degree in Theater and Set design, and architecture at the University for Applied Arts in Vienna and at TU Vienna. She held a lectureship at the master class for landscape design at the University for Applied Arts in Vienna, and works as architect, set designer, journalist in Austria, Switzerland, Germany and Bulgaria.

Giuseppe Ravì

Giuseppe Ravì is specialised in executive business and performing arts coaching. He is Lecturer at Universität für Musik und darstellende Kunst Wien and Universität der Kunst Berlin. He is co-founder of the Purser and Ravì Conducting Academy and facilitates workshops at Royal College of Music London, Ecole Normale de Musique de Paris, Academy of Performing Arts in Prague, La Sapienza University of Rome.

Ina Ross

Ina Ross teaches arts management in the department of cultural sciences at the University of Saarland, Germany. Ross was a visiting lecturer at the National School of Drama and the Jamia Millia Islamia University in Neu Delhi from 2013-18. Before her time in India she served as Associate Professor at the University of Performing Arts "Ernst Busch" Berlin and as Executive Manager of the "Bauhaus Akademie", an interdisciplinary post-graduate program launched by the Bauhaus Dessau foundation.

Leonie Hodkevitch

Leonie Hodkevitch graduated in Ethnology, Spanish Philology, and French Philology at the University of Vienna. She is a writer and publicist, cultural producer, lecturer for Cultural Management and Intercultural Communication for European and American universities. Leonie is the co-founder and principal of the organization for innovative education Clearly Culture, of the University of Vienna Certificate Course for Cultural Management, of the advocate organization for Cystic Fibrosis 'CF-Clearly Future'. Her short stories' appeared in her anthologies 'Night Ride through the Woods' and 'SALTY' and are featured in literary magazines in German, Bulgarian, English, French. Her novel 'Stadlbauer', published in Bulgarian and German, was pronounced one of the three most important novels of the year by the Austrian press.

Matthew Hill

Matthew Hill Intercultural Facilitator, Trainer, Author, Mediator with qualifications in Psychology, NLP, Intercultural Studies, Training quality, Mediation, Communication and Intercultural training, Matthew has worked with more than 37,500 executives in 30 countries representing more than 80 nationalities. He is the author of the books Learn How to LEAD; Believe, Behave & Become; Turning Words Into Actions – Influencing through effective copywriting; What's Stopping You - workbook / exploring executive blockers and enablers, And, Speak Up - presenting well to your audiences.

Matti Bunzl

Matti Bunzl studied anthropology at Stanford University and the University of Chicago. He has taught, researched and written extensively about Jewish culture, the history of sexuality, and museology. Bunzl held a professorship in anthropology at the University of Illinois at Urbana–Champaign from 1998 to 2014. He has been the director of the Wien Museum in Vienna since October 2015.

Monika Herzig

Monika Herzig is a faculty member in arts administration in the O'Neill School of Public and Environmental Affairs of the University of Indiana, Bloomington. Music groups under her leadership have toured the world and opened for acts such as Tower of Power, Sting, Dixie Dregs and more. Herzig completed her doctorate in music education with minor fields in jazz studies at Indiana University. Her awards include a 1994 Down Beat Magazine Award for Best Original Song, a Jazz Journalist Association Hero 2015 award, as well as grants from the NEA, the Indiana Arts Commission, MEIEA, Jazz Tours and the U.S. Embassy, among others.

Olga Kolokytha

Olga Kolokytha is the Academic Director of the Master in Music Management and the Master in Music for Applied Media, based at the Centre for Applied Music Research of the University for Continuing Education Krems, and a Senior Research Fellow at the Department of Communication of the University of Vienna. From 2019 until June 2023 she was the lead researcher for the University of Vienna at the Horizon2020 project CICERONE researching cultural and creative industries in Europe (project leaders: University of Amsterdam). She has taught at university level in Greece, Austria and Germany and has worked extensively as cultural projects manager and consultant around Europe. She is an elected member of the Board of the Research Network Sociology of the Arts of the European Sociological Association, and a member of the editorial board of the journal City, Culture and Society. In December 2022 she was invited to speak on culture and sustainable regional development by the Austrian Commission of UNESCO at the cultural policy event on the occasion of the publication of the UNESCO Global Report "Re|Shaping policies for creativity". In January 2023 she was a keynote speaker at the Austrian Economic Chamber's conference on creative industries.

Patrick Zak

Patrik Žák deputy mayor of Trenčín in charge of Trenčín European Capital of Culture 2026 deals with topics of mobility, inclusion, communities, and public outreach.

Periklis Chatzinakos

Periklis Chatzinakos cinematographer and community worker, managing projects in Thessaloniki, Athens, and Lesbos, Greece. His studies in Cultural Technology and Communication (BA), provided him with the basic tools of cultural management, while Human Geography, Spatial Development and Design (MA) offered him a better understanding of the relationship between humans and the space around them. His passion for environment and human interaction led him to establish a socio-environmental organisation ¨Mamagea¨ aiming to change the daily life of the cities.

Peter Schweitzer

Peter Schweitzer studied Philosophy, Political Science and Social and Cultural Anthropology at the University of Vienna. He joined the Department of Anthropology at the University of Alaska of Fairbanks as Alaska Director of the EPSCoR. In 2012, he became Professor at the Institute of Social and Cultural Anthropology, University of Vienna and in 2016 head of the department. He served as president of the Arctic Social Sciences Association and chair of Social and Human Sciences Working Group of International Arctic Science Committee. Schweitzer is winner of the renowned Wittgenstein Award and specializes on the topics of culture and climate change.

Philipp Ther

Ülar Mark

Ülar Mark is an Estonian architect. From 1999 to 2002 Ülar Mark worked as the chief architect of the city of Narva. Mark is a member of the Union of Estonian Architects and from 2006 to 2007 was the chairman of the union. 2009 to 2013 Mark worked as chairman of the Estonian Center of Architecture. He has designed numerous urban and planning projects as well as done theatre design at the Estonian National Opera. Mark has been partnering with offsite factory Kodasema.com and kodea.eu for creating sustainable module units for making change in the construction industry.